Central Heating Leak Detection
At Cheshire Plumbers, we can spot and stop a leak in no time by using the very latest in central heating leak detection technology. Using thermal imaging cameras we can quickly find the leak no matter the size of your house or the age of it. Our technology is unobtrusive, meaning there is no need to go ripping up floorboards and removing tiles to search for the troublesome leaks. There is no end to the list of damage a leak can cause and repairs can end up costing thousands if not dealt with properly.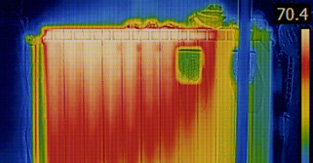 Why Choose Cheshire Plumbers for Central Heating Leak Detection?
Central heating leak detection can often be a very frustrating experience as the pipework is usually hidden from view in the walls or beneath the floor surface. Many firms will simply look at the affected area and start hacking away at your home to find the source. This can end up causing even more damage to your property and they may not even be in the right spot. This is why Cheshire Plumbers use thermal imaging and thermography to find the leak before we set about repairing it. The process is totally unintrusive and can even be done remotely. Once the leak is detected our team can then repair the central heating leak, getting your system back up and running in no time. For more information on central heating leak detection, check out the links below:
Get in Touch for Central Heating Leak Detection
Obviously, if you see water dripping through your roof or down your walls then you know there's a leak in your home. However, there a number of other symptoms you should look out for including a loss of pressure in your boiler, unexpectedly high water bills or noisy pipes. It is vital you get a leak seen to and fixed as serious structural damage is a real possibility. If you would like to know more about our central heating leak detection service, please contact us today.