Underfloor Heating Leak Detection
Underfloor heating has become an extremely popular feature of many homes and businesses due to its unobtrusive and space saving design and its energy efficiency. Our underfloor heating is fitted to the highest standards to ensure that it is virtually maintenance free, but sometimes unforeseen leaks can occur and when this happens, you need professional underfloor heating leak detection. The position of the pipes under the floor, and the vast network that they require means that finding a leak can be difficult. In the worst circumstances, some plumbing companies may even take up of the entire floor area when detecting and repairing an underfloor heating leak. To make matters worse, if underfloor heating leak detection is put off, a leak can cause widespread damage, and so it's important to get it sorted as quickly as possible.
At Cheshire Plumbers, we specialise in providing high standard underfloor heating leak detection which guarantees to pin point your leak quickly whilst causing minimal damage. As the leading supplier of leak detection services in Cheshire and surrounding areas, you can rely on us to find and repair you leak, no matter how big or small the problem may be!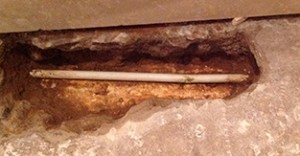 The Advantages of Underfloor Heating Leak Detection
Our underfloor heating leak detection specialists use cutting edge thermal imaging equipment to find your leak whilst causing minimal disruption. This then enables us to fix the leak in a much more focused way, meaning that your underfloor heating system will be back up and running quickly, reducing any long term damage. We often use thermal imaging for our underfloor heating leak detection as this detects the areas of heat loss below the surface of the floor and makes it easy for us to map the underground network of pipes.
After we have located the leak, our expert team of plumbers will then repair the underfloor heating leak using only the very best materials.
Find Out More About Underfloor Heating Leak Detection
If you would like more information about our underfloor heating leak detection, then please get in touch with a member of our expert team who will be more than happy to answer any questions you may have. We will also provide you with a free estimate for our services. As we are situated in Congleton, we mainly work in Cheshire and the surrounding areas, but simply get in touch and we can tell you whether we service your area. We're experts in underfloor heating installation and underfloor heating leak detection so you can rest assured that by choosing Cheshire Plumbers, you will receive the highest quality customer service and workmanship.