Expert Pipe Leak Detection by Cheshire Plumbers
Here at Cheshire Plumbers, we have been providing our expert pipe leak detection services throughout the country for over 10 years! We understand more than anyone that leaks can cause devastating damage to domestic and commercial properties, which is why we pride ourselves on offering quick pipe leak detection to minimise the development of any potential further damage. Our quick and reliable pipe leak detection proves especially beneficial in listed and heritage buildings where leak detection can be particularly expensive and time consuming, and the effects of a leak can be especially damaging.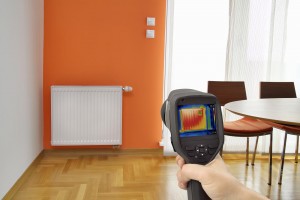 Remote Pipe Leak Detection is the Perfect Solution for your Property
Pipe leak detection can be an awkward and expensive process, particularly in listed and heritage buildings where period features may get in the way or be damaged. In commercial buildings, business often has to be put on hold while the leak is detected and even homes can be left requiring expensive maintenance due to damaged walls and flooring. Pipe leak detection by Cheshire Plumbers however can help you get around these issues by using cutting edge technology remotely! Our most common form of pipe leak detection uses thermal imaging. This involves using specialised infrared cameras at floor level to remotely detect where a leak has formed, before taking action to get it repaired. This technique gives us a clear indication of where the leak has originated, making the whole process quicker and cheaper. Our pipe leak detection services aren't just helpful when you're ankle deep in water, they're also great if you're moving into a new building and want to carry out an energy audit, or just want to make sure everything is ship shape!
For Reliable, Cost Effective and Straightforward Pipe Leak Detection, Choose Cheshire Plumbers!
If you'd like to chat with us about our pipe leak detection services, or any other plumbing needs you may have, please don't hesitate to get in touch with our highly qualified and friendly team, they are more than happy to offer advice, and will talk you through our pipe leak detection services. To see what else Cheshire Plumbers can do for you or your business, take a look here, and keep up to date with our latest news here.